Yew Tree Wellness
Female Focus Clinic, Yew Tree Wellness, Carr Lane, Alderley Edge, Cheshire, SK9 7SL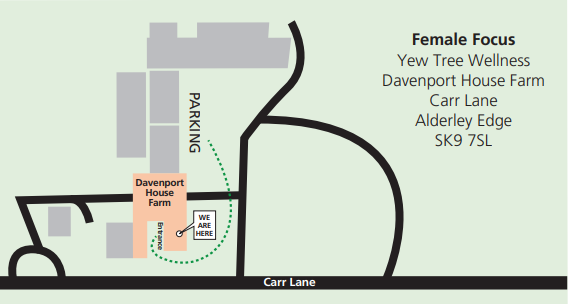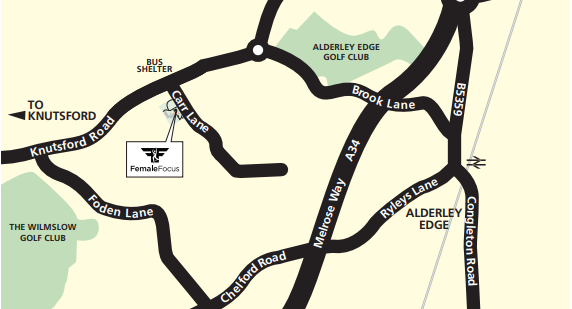 Female Focus is based in the tranquil and beautiful Yew Tree Wellness in Alderley Edge. It has been purpose designed to meet the needs of all women that come for assessment and treatment. Upon arrival at Yew Tree Wellness, please follow the signs to Female Focus Clinic. There is a downstairs waiting room exclusively for patients attending the clinic. The treatment room is located upstairs. Please bear in mind there is no lift at the clinic.
Please use the booking system below to arrange your appointment. I will endeavour to give you an appointment at a time to suit you.
Female Focus is open for appointments on Tuesday, Wednesday, Thursday and Saturday.
Face-to-Face Appointments:
Due to the COVID-19 pandemic, there is a strict 3 step screening and consent system in place for face-to-face appointments.
When a face-to-face booking is made, the physiotherapist will call you prior to the appointment to carry out an Initial Triage & Screening. This MUST be completed before the face-to-face appointment takes place.
You will be asked to complete a Declaration & Consent Form. This will be sent via email and also MUST be completed before the face-to-face appointment.
Upon arrival for the appointment, you will be screened for COVID-19 symptoms.
Once you have attended your first face-to-face appointment, Steps 1 and 2 will not need to be completed again. You will, however, always be screened for COVID-19 related symptoms upon arrival for every face-to-face appointment.
Expectations from patients attending for a face-to-face appointment:
If you develop symptoms of COVID-19, you must cancel your appointment and must NOT attend the clinic (there will be no cancellation fee in this situation).
You should aim to arrive at the time of your appointment, not more than 5 minutes earlier. This allows for cleaning and social distancing.
All patients will be expected to wash their hands on entering and before leaving the clinic – signage in the waiting room will give clear instructions on this
You must wear a mask for the duration of your appointment. You will be advised to bring a mask and apply it before entering the clinic. If you do not bring one, you will be charged £2 to buy one.
Patients should remove their mask after leaving the clinic and dispose of it at home.
Patients are advised where possible, to attend the clinic on their own. Babies and children should not attend.
Relatives / carers are only allowed if this is deemed necessary e.g. for those with limited mobility.
If a relative or carer must attend, he / she will must also be screened for COVID-19 related symptoms prior to the appointment. They will again be screened again on arrival.
Virtual (Video) Appointments:
Video appointments are available to any patient if they prefer.
If a face-to-face appointment isn't possible or isn't deemed necessary, the patient will be offered a virtual appointment as an alternative.
Any virtual appointment will be carried out using WriteUpp (the secure software system used at Female Focus).
The patient will receive a secure link via email in order to access the video, at the time of their appointment.
Payment is expected PRIOR to your video appointment. Payment details will be outlined in your confirmation email.
Please read the following key information before booking your appointment:
Appointment Cancellation / 'No Show' Policy: Female Focus is committed to providing all patients with exceptional care. When a patient doesn't show up to an appointment, or cancels without giving enough notice, they prevent another patient from being seen. Please give at least 48 hours notice to cancel or change an appointment. If you fail to do so, you will be charged £50 for the missed appointment. Notice to cancel an appointment can be made by email, text or by calling 07793117043. PLEASE NOTE THAT A CANCELLATION FEE WILL NOT APPLY IF YOU CANCEL YOUR APPOINTMENT AS A RESULT OF HAVING COVID-19 RELATED SYMPTOMS, EVEN IF YOU CANCEL YOUR APPOINTMENT LESS THAN 48 HOURS BEFORE YOUR APPOINTMENT.
Appointment Length: If you are a new patient, and it is your first session, the appointment takes approximately 90 minutes. If you are attending for a follow up, the appointment usually takes 45-60 minutes.
Payment: We can accept card payments, cash or you can transfer money prior to your appointment. Please contact me if you would like to pay before your appointment.
Please click here for further information on COVID-19 Standards of Operating Practice for Female Focus.