COVID 19 – IMPORTANT INFORMATION
Due to the Coronavirus, Female Focus is currently closed. I will closely monitor the situation and will re-open again once it is deemed safe to do so. If you have any questions or wish to get in touch please email babs@femalefocusclinic.co.uk
Clinic Location
Female Focus Clinic, Yew Tree Wellness, Carr Lane, Alderley Edge, Cheshire, SK9 7SL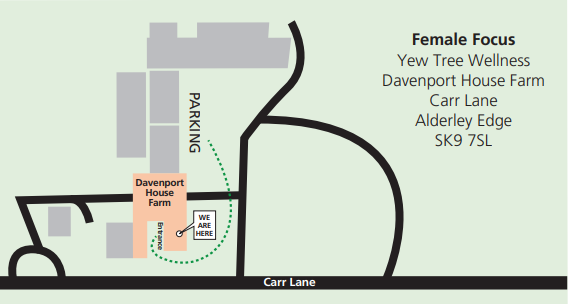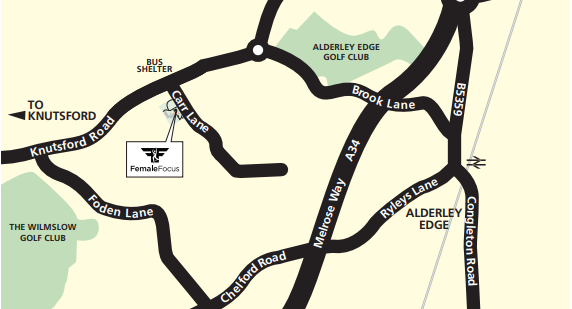 Female Focus is based in the tranquil and beautiful Yew Tree Wellness in Alderley Edge. It has been purpose designed to meet the needs of all women that come for assessment and treatment. Upon arrival at Yew Tree Wellness, please follow the signs to Female Focus Clinic. There is a downstairs waiting room exclusively for patients attending the clinic. The treatment room is located upstairs. Please bear in mind there is no lift at the clinic.
Please use the booking system below to arrange your appointment. I will endeavour to give you an appointment at a time to suit you. The clinic is open on Tuesday all day (including late evening), Wednesday daytime, Thursday daytime and Saturday morning. Please call me on 07793117043 if you would prefer to arrange your appointment by telephone.
Please read the following key information before booking your appointment:
Appointment Cancellation / 'No Show' Policy: Female Focus is committed to providing all patients with exceptional care. When a patient doesn't show up to an appointment, or cancels without giving enough notice, they prevent another patient from being seen. Please give at least 48 hours notice to cancel or change an appointment. If you fail to do so, you will be charged £50 for the missed appointment. Notice to cancel an appointment can be made by email, text or by calling 07793117043.
Appointment Length: If you are a new patient, and it is your first session, the appointment takes approximately 90 minutes. If you are attending for a follow up, the appointment usually takes 45-60 minutes.
Payment: We can accept card payments, cash or you can transfer money prior to your appointment. Please contact me if you would like to pay before your appointment.